Omega-3 may keep gut microbiota diverse and healthy
12 Sep 2017 at 4:00pm
A new study suggests that an intake of omega-3 fatty acids - commonly found in fish oil - may improve the biodiversity of the gut microbiota.
Trump's policy changes put women's sexual and reproductive health at risk, ar...
3 Mar 2017 at 1:00pm
The US political war on women has reached an all-time apex, and women┤s health physicians must speak out loudly on their behalf.
Abortion care in the UK is heading towards a crisis, warns expert
3 Jan 2017 at 7:00am
The law is now widely seen as not fit for purpose.Abortion care in the UK is "heading towards a crisis" and reform of the law is just one of the many obstacles that needs to be overcome, argues...
How to cope with depression after abortion
25 Sep 2016 at 7:00am
Having an abortion may be followed by feelings of grief, loss, or regret, which could lead to a type of depression. Learn about the symptoms and treatment.
Newsfeed display by CaRP
Abortion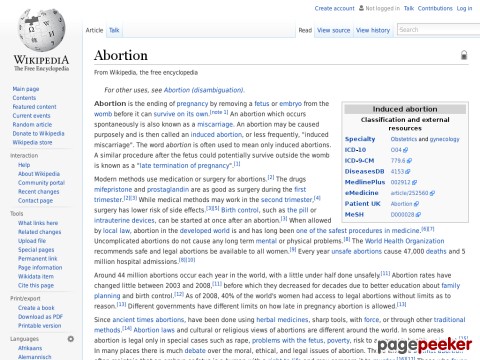 From
Social Issues
>
Abortion
An abortion is the termination of a pregnancy associated with the death of an embryo or a fetus. This can occur spontaneously, in the form of a miscarriage, or be intentionally induced through chemical, surgical, or other means. All mammalian pregnancies can be aborted; however, this article focuses exclusively on the abortion of human pregnancy.

There have been various methods of inducing an abortion throughout the centuries. In the 20th century, the ethics and morality of abortions became the subject of intense political debate in many areas of the world.

Visit Website
Category Stats
Listings:
1
Regular:
1
Last listing added:
01/26/06